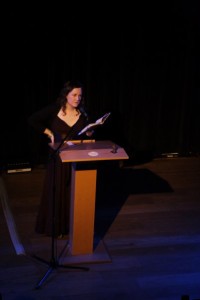 Eleanor is an experienced and powerful reader of her own work. Her poetry is written to be heard; the dense sound patterns and textures of her poetry fully coming to life when spoken aloud. Eleanor creates a poetic experience rich with image and an immersive atmosphere, soft and sensual.
Commissioned poems have appeared on Radio 3, The Verb as part of the Free Thinking Festival, Liverpool — a live broadcast in front of a studio audience, BBC Radio 3 Breakfast Programme, BBC Radio Merseyside and BBC Radio 4.
Recent readings have included the House of Commons and an art gallery in Bratislava. Eleanor is always keen to find fresh and atmospheric places for her poetry and to create a intimate and compelling relationship with an audience.
To book Eleanor for a poetry reading or event: reeseleanor@hotmail.com
A selection of recordings of solo readings:
A selection of solo public readings 1999-2017
Women on Brexit Poem Magazine Launch, House of Commons, London, 20th June 2017; Tonight at Noon: A celebration of The Mersey Sound, Bluecoat Arts Centre, 16th July 2017;Ars Poetica International Poetry Festival, Bratislava, Nov, 2016; The Wordsworth Trust, Grasmere, July, 2016; Druskinkai Poetic Fall, Lithuania, Oct 2015;Bradford Library September 2015; Keats House London August 2015;Ledbury Festival 11th July 2015;Pavilion Poetry, University of Liverpool 27th April 2015; Pavilion Poetry Manchester Launch, Centre for New Writing, University of Manchester 20th April 2015; Peter Barlow Cigarette, Waterstones, Manchester 28th Feb 2015;Poetry Nites, Hebden Bridge, 28th Oct,2013; Manky Poets 16th Aug, 2013, Manchester, June 2013; Treasury: The Poetry Library South Bank Centre, London, 1st May, 2103; Mr Seels Gardens, Bluecoat Arts Centre, 29th Jan 2013; Time to Read, Runcorn Library and Congleton Library, 04th Oct/29th Nov 2012;Blackpool Wordpool Festival, November 2012; Zebra PoetryFilm Festival, Kino Babylon, Berlin, Oct 2012; Exeter Poetry Festival, October 2012; Treasury, Lantern Theatre, Liverpool, Dec 2012; Manchester Book Market June 2011;Exeter Poetry Festival, October 2011; Bluecoat Arts Centre, Liverpool 4th December 2010; Poetry Cafe, Poetry Society, Covent Garden, London18th Sept, 2010;Poetry at the GRV Reading, Edinburgh, 12th Sept, 2010;Hidden Door Festival, Aug, 2010;Edinburgh Festival Fringe Salt Poets Reading, Edinburgh 23rd Aug, 2010;Twilight at the Bandstand, Sefton Park Bandstand, Liverpool, 31st July, Bluebell Independent Bookshop, Penrith, 10th July, 2010;Manchester Book Market, Manchester, 25th June, 2010;Bluecoat Arts Centre, Liverpool,15th May 2010;Ricefields Chinese Arts Centre, Glasgow, 25th Apr; Moers VHS Adult Education College, Germany, Mar, 2010;Haiti Fundraiser, Sefton Park Palm House, 21st Feb, 2010;Eliza and the Bear, London Book Launch, London, 01 Dec 2009;;Eliza and the Bear, Liverpool Book Launch, Bluecoat Arts Centre, 18th Nov, 2009;Version Film Festival, Corner House Arts Centre, Manchester, 19th July 2009;Hope International Literary Festival, Hope University College Liverpool 3rd Dec 2008;Costa Poetry Cafe, Liverpool 13th Oct 2008;Bolton Octagon, 14th Apr 2008;Ledbury Poetry Festival, 10th July 2008;Durham Writers, Durham, March 2008;Troubadour Cafe Poetry Readings, London, 4th Feb 2008;MAC Centre, Birmingham, 2008; The Puzzle, Sowerby Bridge 2007; View Two Gallery, Liverpool, 2007; Poetry Society Forward Prize, 2007; Salt Margins, The Whitechapel Gallery, London, 2007; The Fragrant Project, Croxteth Hall, Liverpool 2007; Freshfields Hotel, Formby 2007; Liverpool Independents Biennial, 2006; Manchester Book Fair, 2006; Back to the Machine Gun, Liverpool 2006; Vertebrate, Manchester, 2005; DGPS Everyman Theatre, 2005; Fiction @ FACT 2005; Liverpool Palm House, Liverpool 2004; Verbiage, Winter Gardens Sheffield 2004; Fiction @ FACT, Liverpool, 2004; Bluecoat Arts Centre, Liverpool, 2004; SHE, Kirklees Media Centre, Huddersfield; Ledbury Poetry Festival, 2003; DGPS, Everyman Theatre Third Room, Liverpool, 2003; Kirklees Media Centre, Close to the Bone Project, 2003; Eric Gregory Awards, Poetry Society, London, 2002; Public Life, Shoreditch, London, 2002; The Wardrobe, Leeds 1999; Demo/text 1999, The Word Hoard, Huddersfield.