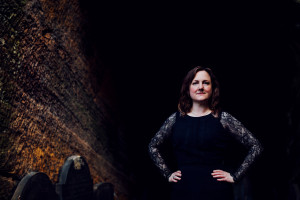 Eleanor Rees was born in Birkenhead, Merseyside in 1978. Her pamphlet collection Feeding Fire (Spout, 2001) received an Eric Gregory Award in 2002 and her first full length collection Andraste's Hair (Salt, 2007) was shortlisted for the Forward Prize for Best First Collection and the Glen Dimplex New Writers Awards. Her second collection Eliza and the Bear (Salt, 2009) is also a live performance for voice and harp which has toured in the North West. In 2015 Eleanor published her third full-length collection Blood Child (Liverpool University Press/Pavilion, 2015) and a long pamphlet Riverine (Gatehouse Press, 2015).
Eleanor works in the community as a poet, running writing workshops for The Windows Project. Eleanor has also toured widely offering readings at national and international poetry festival
In 2015 Eleanor Rees was selected for Versopolis: An online platform for promotion of European poetry, emerging authors and renowned literary festivals, events and organisations.  Her poetry has been translated into German and Lithuanian.
Eleanor also holds an AHRC funded PhD University of Exeter 'Making Connections': The Work of the Local Poet.' She often collaborates with other writers, musicians and artists and works to commission.
Eleanor is Lecturer in Creative Writing at Liverpool Hope University and lives in Liverpool.